Spirit of our Founder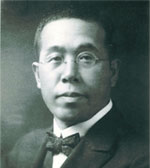 The founder of the JX Metals Group. Kuhara opened the Hitachi Mine in 1905, and rapidly transformed it into one of the four largest copper mines in Japan. In 1912, he established Kuhara Mining Co., which soon became one of the leading enterprises in Japan's nonferrous industry. Kuhara later entered politics and served as Minister of Communications as well as a president of the Rikken Seiyukai party. After World War II, he endeavored to restore Japan's relationships with China and Russia (the Soviet Union).
The Spirit of "the Mine as One Big Family"
The Group's philosophy toward employees dates back to 1905, when the Hitachi Mine was founded. Like many other mines, the Hitachi Mine was located deep in the mountains. The founder, Fusanosuke Kuhara, realized that it would be imperative to provide employees with an environment in which they can work with peace of mind, in order to build business success at the Hitachi Mine, which was also located at a desolate area distant from urban regions. For this reason, he focused his efforts on raising the standard of living at the mine. The Group's philosophy of "respect for employees" originates with this initiative.

Striving to create an environment in which employees could live with their families, Mr. Kuhara built a town that offered not only housing but also schools for children, hospitals, railroads, as well as recreational facilities. Living in the area, which was equipped with workplaces and residences, employees shared all their joys and sorrows with each other, while fostering a sense of togetherness. At the same time, a spirit of "respect for employees" was nurtured, which has subsequently been passed down to the current Group.
About Nippon Mining Museum