-The challenge of the JX Metals Group to contribute to the sustainable development of society through advanced functional metal materials-
Our Research and Development Policy
We relentlessly pursue innovation by advancing and utilizing technologies accumulated to date, and through collaboration with outside resources.
Copper is one of the major base metals, and along with various rare metals and precious metals, it has been supporting the advance of electronic devices through outstanding properties. We are one of the world's leading corporate groups in the area of nonferrous metals. For more than a century, we have continued to supply materials meeting the needs of the era, conducting global business operations that extend from resource development, smelting and refining to manufacture and sales of electronic materials, as well as recycling.
The world today is in the midst of significant changes, as industrial structures are transformed, environmental and energy issues exist on a global scale, and the information society becomes ever more advanced. In response to these changes, we drew up the Long-Term Vision 2040, aimed at helping to achieve the SDGs, and we are actively conducting research and development based on this Vision. In this way we aim to better utilize the technologies and knowledge we have accumulated over many years, becoming a technology-based firm quick to provide society with products and technologies that will advance the world.
In these research and development efforts, we are bringing together our core technologies in such areas as purification, composition and microstructure design, and extraction and refining. We are also promoting co-creation in various forms, such as technology collaboration with our Group companies, joint research with universities and other research institutions, and partnering with other corporations, to create and provide new value.
The research and development structure in our company comprises two key components: (i) the development organizations of individual business divisions, which have close relationships to our businesses, and (ii) the Technology Development Center. The latter acts as our corporate laboratory for development of leading-edge materials; for R&D on next-generation technologies relating to resource development, smelting and refining, and recycling; and for developing analysis technologies common to the entire company. With this development structure, we are not only meeting the everyday needs of our customers, but are also contributing to the future society that awaits us as members of that society.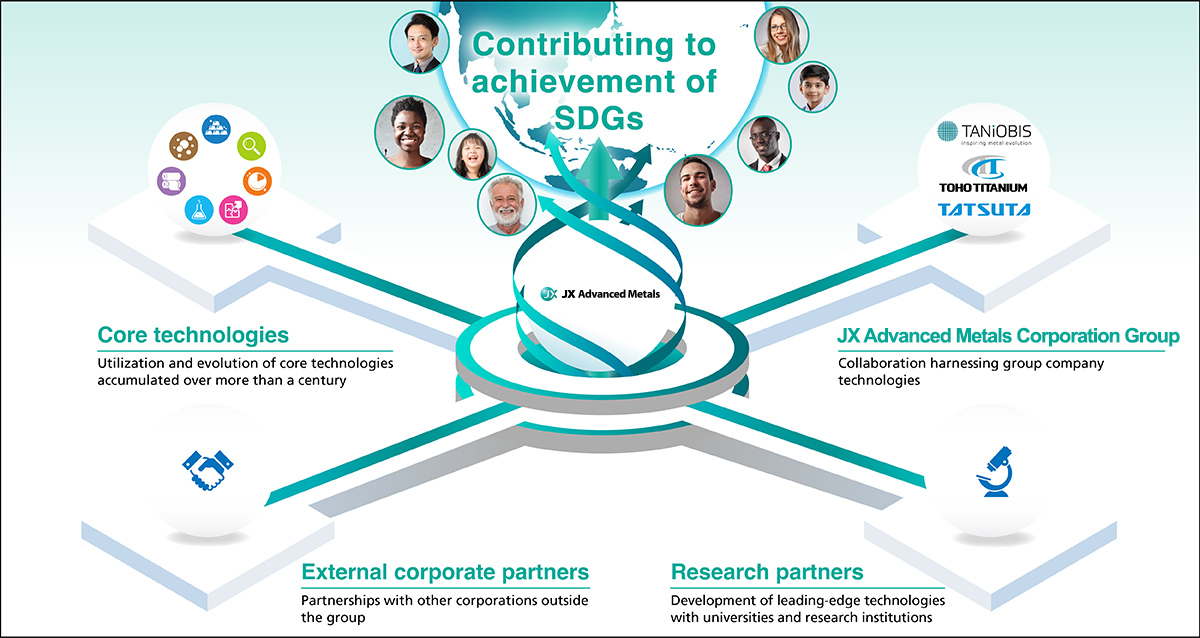 ---