Products and Services
Circuit Boards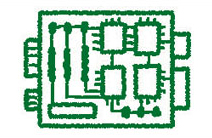 Our products relating to circuit boards are introduced here.
We have a diverse lineup of copper foils extending from high-flexibility treated rolled copper foil and electro-deposited copper foil for flexible printed circuits to ultra-thin electro-deposited copper foil for rigid circuit boards.
Our extensive lineup of products and technologies also includes copper alloys used in board to board connectors and in mounting sockets, along with technologies for precision fabrication on consignment and plating, and surface treatment agents.
Circuit Board-related Products and Services