NS-5 Series (High-Refractivity Target)
Sputtering Targets for Optical Films
NS-5 Series
(High-Refractivity Target)
Our proprietary high-refractivity target, offering the following features.
High-refractivity, high-transmittance film can be deposited at a fast rate by DC sputtering.
As an alternative material to TiO2, it enables higher productivity and improvement of optical properties.
The target offers outstanding amorphous stability and barrier performance. It is suited for use as protective film of various kinds.
NS-5: For films with higher refractivity than TiO2  NS-5B: Deposition three times faster than TiO2
NS-5 Series basic properties
Target
Ar+2%O2
Sputtering rate (Å/sec)
Film resistivity (Ω/cm)
Crystallization temperature
n@550nm
k@405nm
NS-5
2.46
0.004
0.9
>106
≧400℃
NS-5B
2.37
0.000
1.5
>106
>600℃
TiO2
(for reference)
2.37
0.001
0.5
>106
300℃
NS-5 Series optical transmittance
Has similar transmittance to TiO2 in the visible light region.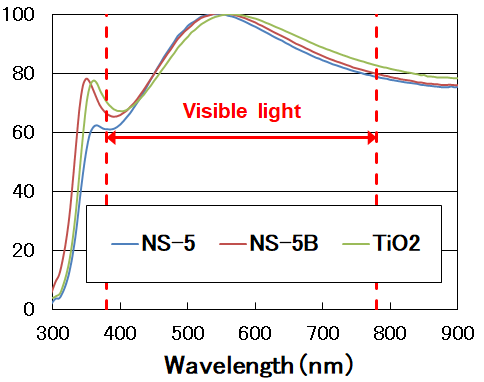 NS-5 Series water vapor transmission rate (WVTR, measured by MOCON analyzer)
Barrier properties are superior to those of SiO2.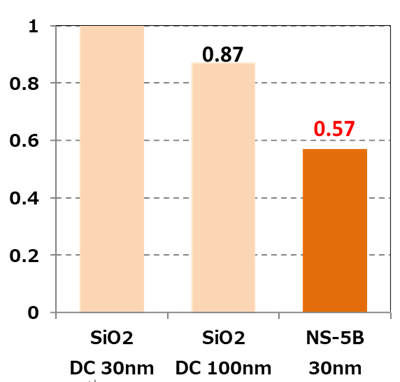 Relative values with SiO2 (30 nm) as 1.