Lead-free Piezoelectric Materials
Products Under Development
Under Development
Lead-free Piezoelectric Materials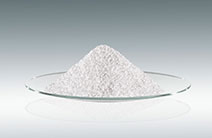 Lead zirconate titanate (PZT) is widely used as a piezoelectric material. The study for a lead-free alternative, however, has been going on lately due to tightened regulations of hazardous substances.
TANIOBIS GmbH, a group company of JX Metals Corporation, provides several materials that are promising as lead-free replacements for piezoelectric material, including potassium sodium niobate (KNN) powder, lithium sodium potassium niobate (LNKN) powder, and their intermediate raw material KNbO3 powder.
| | |
| --- | --- |
| Materials | Nb2O5 powder, KNbO3 powder, KNN powder, LNKN powder |
| Applications | Ultrasonic oscillator, ultrasonic motor, piezoelectric actuators and sensors, etc. |
The listed products are sold by TANIOBIS GmbH.
Inquiries accepted 24 hours a day
Department name

Business Development Department, Tantalum and Niobium Division
Calls accepted from 9:00 a.m. to 5:50 p.m. JST (except weekends and holidays)