Titanium Copper Foil ― alternative to Cu-Ni-Sn foil
Copper Alloy Foil
Titanium Copper Foil ― alternative to Cu-Ni-Sn foil
A Hyper titanium copper foil (model code C1990HP) offering the highest level of strength of any copper alloy.
The high strength and excellent spring properties make it an alternative to beryllium copper foil.
Higher thickness precision than conventional materials is achieved by optimizing the manufacturing processes.
This higher thickness precision in turn improves the stability of spring properties.
All production processes from metal melting to product-width slitting take place in our Kurami Works, enabling quick delivery time.
High strength
Excellent spring properties
Can be used in place of beryllium copper
High thickness precision
High reliability
Excellent stress relaxation resistance
Excellent fatigue properties
Full-process production for quick delivery
Manufacturable thickness (typical dimensions)
Connectors
Spring material in autofocus camera modules for mobile phones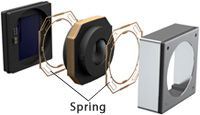 Table 1. C1990HP foil chemical composition (%)
| | Ti | Cu + Ti |
| --- | --- | --- |
| Standard composition | 2.90~3.50 | ≧ 99.5 |
Table 2. Physical properties of C1990HP foil
Electrical conductivity
10
%IACS (@20℃)
Specific resistance
172
nΩ·m (@20℃)
Thermal conductivity
47
W/mK
Linear expansion coefficient
18.6
×10-6/K (20 to 300℃)
Modulus of elasticity
XSH : 115
GPa
GSH : 127
Density
8.70
g/cm3
Table 3. Mechanical properties of C1990HP foil
(upper: typical values, lower: specification range)
Temper
Tensile strength
(MPa)
Vickers hardness
(Hv)
C1990HP-XSH
1150
1050-1400
340
310-380
C1990HP-GSH
1400
1300-1600
400
350-450
Figure 1. Histogram of thickness distribution in the longitudinal direction (comparison of high thickness precision material with conventional material; thickness 30µm)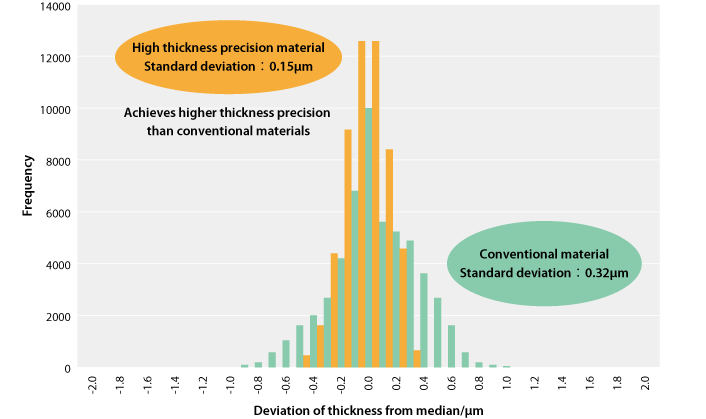 Data obtained by X-ray measurements of thickness at the center of the transverse direction (perpendicular to the rolling direction) of the mother coil, taken every 0.01 seconds for approximately 1,000 meters.
The values shown are typical values and are not intended as specifications.
Figure 2. Thickness distribution in the transverse direction (high thickness precision material N = 3, thickness 30 µm)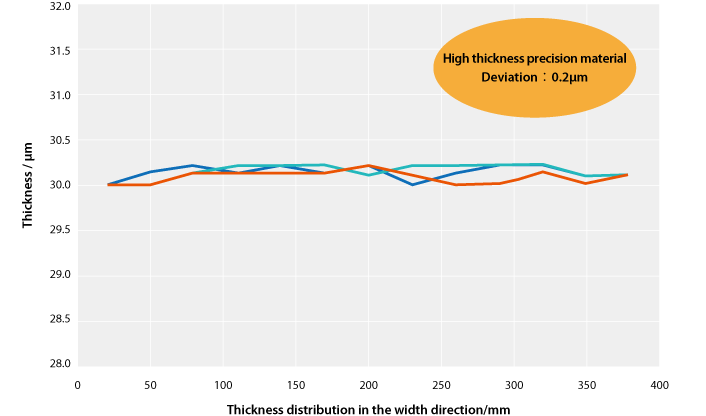 Thickness distribution was measured in the transverse direction using a direct contact thickness gauge.
The values shown are typical values and are not intended as specifications.