Copper Foil for Rigid Circuit Boards
Copper Foil
Copper Foil for Rigid Circuit Boards
Low-profile foil very suitable to fine line application.
Available as either roll foil or sheet foil.
JTCSLC

Fine nodulation and low surface roughness
High peel strength and excellent thermal resistance
JDLC

High reliability for semiconductor package substrate material
Superior dimensional stability
Excellent etching factor
High Density Interconnect (HDI) boards
IC package substrates
Multi-layer printed circuit boards
Product
Thickness
Tensile strength
Elongation (room temperature)
Peel strength (FR-4)
µm
Mpa
%
kN/m
JTCSLC
9
390
4
1.0
12
390
8
1.2
18
390
12
1.4
JDLC
12
400
6
1.1
CAC (Copper-Aluminum-Copper) Foil
Copper foil attached to an aluminum shield by a peelable adhesive.
Available with the copper foil attached either on one side or on both sides of the aluminum separator.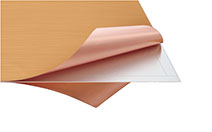 Contribute to higher yield by preventing contaminants causing denting or wrinkling during lay-up.
More layers can be laid up comparing with stainless steel plate, thereby providing process cost savings.
Printed circuit boards (mainly multi-layer boards)