Management of Closed Mines
Activities in Environmental Conservation
Management of Closed Mines
From its founding in 1905, the JX Metals Group was engaged in mining operations across Japan. By ensuring a steady supply of nonferrous metals and other resources, we contributed to Japan's economic growth. Today, however, nearly all the mining operations have been stopped* due to the depletion of mineral resources. Currently, the Group is working to maintain and restore the natural environment in and around the closed mines. One such effort is the treatment of acid mine drainage (AMD).
Currently, the Kasuga Mine in Kagoshima Prefecture is the only Group mine in Japan still operating.
Management Work at Closed Mines
Of the 39 closed mines managed by the Company, AMD treatment is an ongoing obligation at 12 mines pursuant to the Mine Safety Act. JX Nippon Mining Ecomanagement is responsible for the work at these mining sites, including AMD treatment and the management of tailings dams.
The work mainly consists of treating the highly acidic mine drainage generated from the mines and tailings dams, which contain heavy metals, and maintaining and preserving the tailings dams and galleries of the mining sites.
The operation of treatment facilities has to be kept up 365 days a year, since AMD is generated continuously after a mine is closed. This is a result of the chemical reaction of rainwater and other water with ores remaining in the mine and tailings in the dams.
Projects to improve mine tailings dam resistance to earthquakes and torrential downpours
The Great East Japan Earthquake disaster of March 2011 caused damage to tailings dams at both the Oya and Takatama mines. At the time of this disaster, both structures met building code standards for earthquake-resistant strength and should have been capable of withstanding a "Level1" earthquake event as defined under government scenarios.
However, they suffered damage because the intensity of the actual earthquake far exceeded the earthquake-resistance standards the government had assumed would be adequate.
Independent standards and the implementation of risk assessments and remedial projects
Following the Great East Japan Earthquake, JX Metals Corporation organized a panel of experts (academics and specialists) to re-examine earthquake-resistance standards for mine tailings dam structures and established its own independent standard for resistance to "Level 2" earthquakes (the strongest level for any seismic event anticipated at this time or in the future within the regions reviewed).* At the same time, it also established a stringent independent standard for stability against "guerrilla-style" torrential rains and other concentrated downpours that in recent years have become highly frequent events in regions throughout Japan as one of the effects of climate change.
In line with these independent standards, the company then performed risk assessments of its tailings dam structures in 51 locations nationwide, assigned orders of priority to those structures found to be in need of action, and prepared a schedule for the implementation of remedial construction work starting in 2013, with all projects to be completed by 2022.
Remedial measures included foundational reinforcement work (to ensure stability against earthquakes) and the expansion and reinforcement of water channels (to ensure adequate drainage capacity during torrential downpours).
Subsequent revisions brought national earthquake-resistance standards up to a level comparable to the independent standards established by JX Metals Corporation.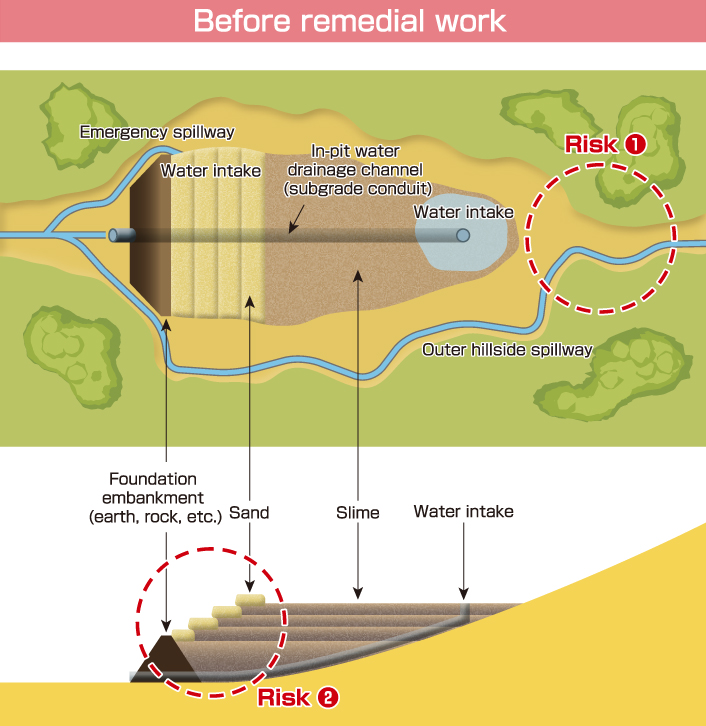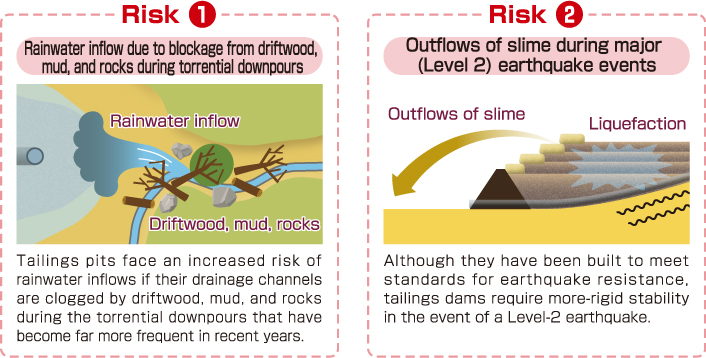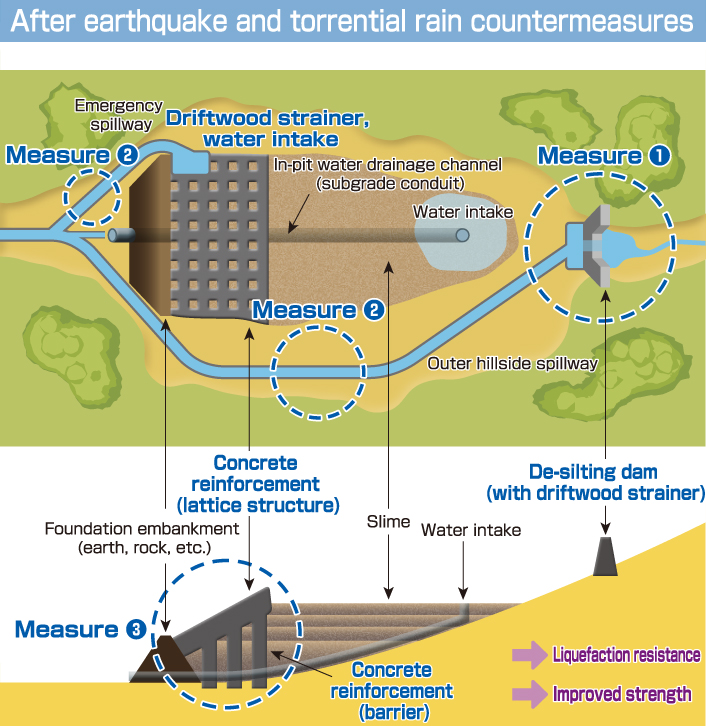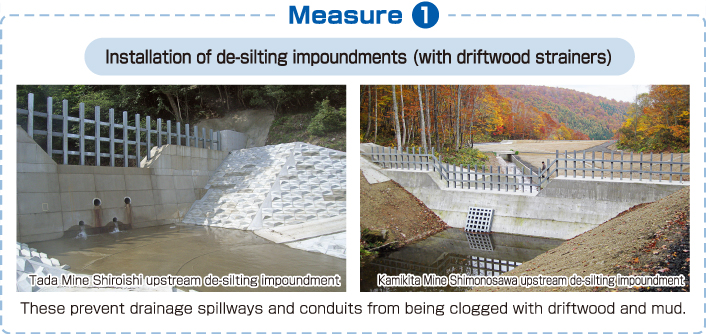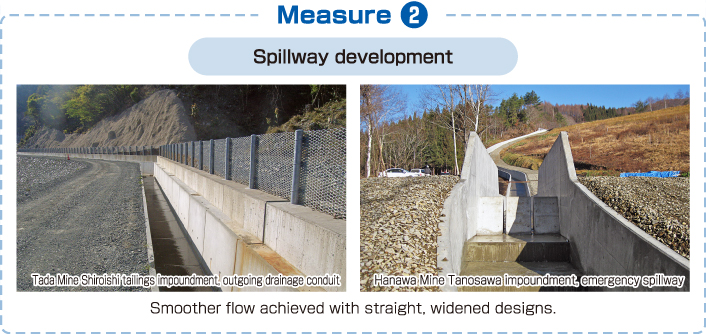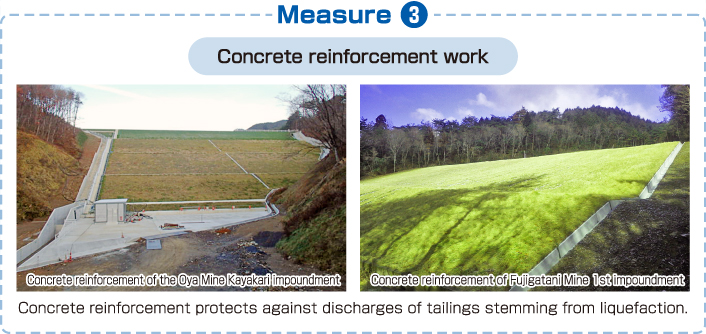 Environmental restoration of former mining sites
In parallel with measures to improve the safety of tailings impoundment sites, we have also been actively engaged in efforts to environmentally restore former mining sites and their surroundings.
An example of environmental restoration: Former Toyoha Mine site near the city of Sapporo in Hokkaido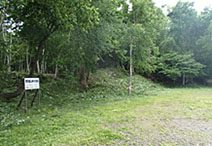 Responding to requests from local community associations, we transformed the tailings dam site at the closed Toyoha Mine into a scenic forest. We are thinning Japanese white birch growing naturally on this site and planting trees in the resulting spaces to maintain the environment. In fiscal 2019, we undertook weeding across an area covering 2,800 square meters.
Please browse the section on Reforestation Activities for more information on our efforts in environmental restoration.